One of the most important things in the service and hospitality industry is having visual appeal. It doesn't matter if they are making, customers are walking across the foyer and up and down the hallways of a high-end hotel or enjoying a delicious meal in a five-star restaurant, customers and patrons of these establishments have expectations with regards to the aesthetics. To achieve the right aesthetics for a commercial building in the hospitality industry, time, money and attention need to
be put into ensuring the right type of flooring is installed.
It's crucial, as it is in retail outlets like clothing stores and supermarkets, that hospitality flooring is both durable and stylish while keeping with the brand. The difference is that in the retail sector, the brand is always out ahead of everything else, whereas flooring for businesses operating in the service and hospitality industry needs to help customers feel comfortable and welcome.
If this feeling is not achieved, it could (and in most cases, probably will) mean that customers won't return for a second visit, having a devastating effect on the profit margins. Restaurants will be serving fewer people and hotels will not have the occupancy rates they expect.
Choosing The Best Flooring For Businesses in the Hospitality and Service Industry
By far the best choice of hospitality flooring, if your main concern is offering customers is luxury vinyl tiles. LVT flooring is perfect for offering a positive experience for customers as well as being aesthetically pleasing with a long lifespan. Below we discuss some of the best buildings and kinds of locations that benefit most from luxury vinyl tiling for flooring. LVT has become one of the most visually appealing and commonly used hospitality flooring options.
Restaurants and Eateries
If you are eating out somewhere, be it a fine dining restaurant, a steakhouse or even just a fast food outlet, it is not unreasonable to expect it to be hygienic and comfortable. When food is involved, cleanliness is obviously very important, but it is true of all industries. It is for that reason that LVT is an ideal hospitality flooring solution for these kinds of establishments. It can be used throughout an eatery, from the lobby and foyer areas to the bathrooms and of course, the dining rooms themselves. Not only does it make cleaning easier, but it helps enhance the effectiveness of any cleaning so that you can be sure it is always done to an impeccably high standard.
Hotels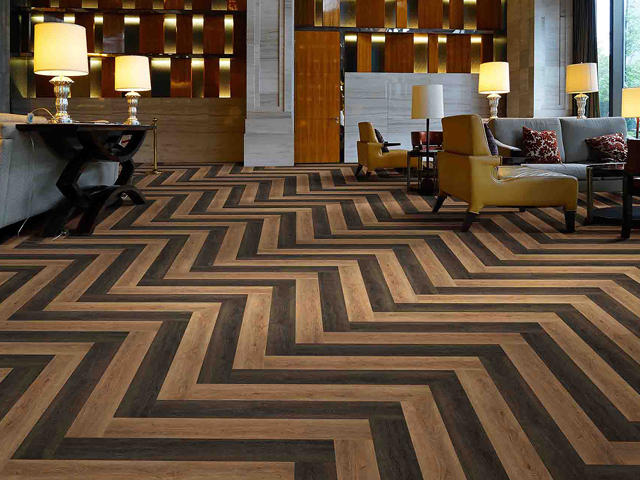 In hotels of all sizes, there are many different areas where there is a lot of heavy traffic. From the guest rooms to the bathrooms, rooms with kitchens and en suites to the hallways, dining areas, and lobbies. They are also distinctly different from other business premises in that they are open 24/7 365 days a year, every year.
Therefore, it is best to choose the best flooring that will provide the best returning your investment in terms of longevity and durability. That's not to say that LVT sacrifices aesthetics in favor of durability and resistance to wear and tear, because it doesn't. In fact, you can still create an appealing and home-away-from-home environment for your guests by using luxury vinyl tiling.
It is not just restaurants and hotels that benefit from LVT though, as establishments such as bowling alleys, clubhouses, salons, spas, gyms and many more can too.

Key Benefits of Luxury Vinyl Tiling For Hospitality Flooring
If you are still not fully convinced that LVT is the best option for your own hospitality flooring, this next section is for you. In it, we are going to look at the key benefits of this kind of flooring for use in the service and hospitality industry.
Comfort That Lasts
Hospitality is the one commercial field, more than any others, where it makes perfect sense to create buildings that have a homely feel to them. When we speak about these establishments being comfortable, it's not solely with the customers and patrons in mind. We are also talking about the members of staff who are employed in these kinds of buildings.
Many people may argue that for certain buildings and businesses, an authentic wooden look is needed. That may be true, but as wooden flooring solutions tend to be expensive and don't handle accidents like spillages well, genuine hardwood is not worth the investment. With luxury vinyl tiling, you can have a high-performance and durable flooring that has the charming visual appeal of real, natural and very old wood.
Wide Array of Options for Designs
Another great benefit of choosing LVT for hospitality flooring is that it is available in an astonishing array of different designs, colors, and textures. This makes it the best choice for cafeterias, entertainment centers and venues, hotels, and restaurants. As well as offering flooring that is very attractive and in keeping with the décor and design of the location, it can also be customized to meet the specific brand requirements.
Easy to Repair
It goes without saying that flooring in any building or areas of a building where there is a heavy and consistent amount of traffic, will result in a degree of wear and tear. This wear and tear are often in the form of gouges, scuffs and most commonly, scratches. It is something that goes hand in hand with the industry in general, not just the flooring aspect.
Therefore it is so crucial to make the right choice when deciding which type of hospitality flooring you are going to opt for and install. Luxury vinyl tiling has a reputation as being versatile and durable and able to handle the issues and wear and tear well. Even if it does suffer from the effects of this wear and tear, it is very easy to replace, particularly if it's just a specific section of flooring that is damaged or becoming an eyesore. The knock-on effect of the ease in which you can repair this type of flooring is that when problems do occur with it, the business does not necessarily need to grind to a halt.
Minimal Maintenance is Required
Obviously, hotels and other establishments like restaurants within the hospitality industry are very busy. Because of this, they must have regular maintenance to keep them as presentable, clean and hygienic as they possibly can be. When have you not gone to a hotel or restaurant and expected a high standard of cleanliness? This is what customers rightly expect. When you install luxury vinyl tiling you get the real benefit of a hospitality flooring installation that is far easier to maintain and look after than any other type of flooring available for the hospitality and service industry right now.
So, if you are the owner of a business operating in any area of the hospitality and service sector, and are looking for a suitable flooring solution, we highly recommend LVT as a hospitality flooring solution. As we hope we've been able to show, It will look stylish and cool, while keeping up with any brand requirements you may have. It is one of the easiest flooring materials to look after and keep clean. Therefore, it will not only cost less initially to install, but as it does not require quite as intensive and full-on maintenance as you might imagine, it will be cheaper and less time-consuming to have luxury vinyl tiles installed, rather than one of the alternatives.
Can Wilkerson Floors Help With Your Hospitality Flooring Project?
Contact us below to have one of our hospitality flooring sales and installation specialists reach out and see how our team of professional installers can help. One room or multiple hotels. Our staff is ready to serve.